Sharrow: A shared-lane marking or sharrow[1] is a street marking installed at locations in Australia, Canada, and the United States. This marking is placed in the center of a travel lane to indicate that a bicyclist may use the full lane. The name sharrow was coined by Oliver Gajda, of the City and County of San Francisco Bicycle Program, and is a portmanteau of share and arrow.
Sharrow Cup: A trophy awarded by Bike Norfolk to the fastest male and female cyclists at the Spokin' Through History Time Trial. The Sharrow Cup may be won on USAC-compliant bikes in the Fixed Gear and standard Categories, I-V, or in the non-USAC Recumbent Category.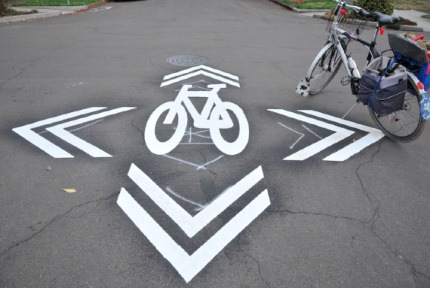 Show the world you're fast enough to take the full lane.